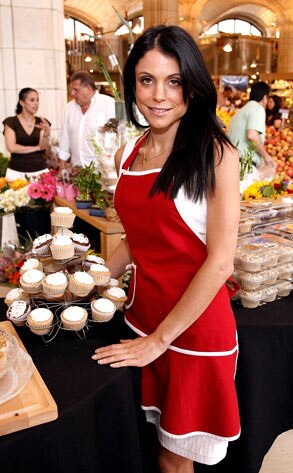 photo by Jemal Countess/Wireimage.com
E! Online
gives us on the scoop
on
Bethenny Bakes.
Bethenny Frankel never seemed like a traditional hausfrau (maybe that's why we like her so much), but as of this weekend the Real Housewives of New York City star is probably closer to being a domestic goddess than the countess or Jill Zarin are ever gonna get.

The single but trying reality star just launched a line of vegan cupcakes and other healthy treats called Bethenny Bakes at the BridgeMarket Food Emporium in Manhattan Sunday, and she was even on hand to sign autographs.
WireImage has a LOT more photos of Bethenny's cupcake launch.
Here's
one user's negative experience
ordering from Bethenny Bakes. Have you ordered from or tasted her cupcakes?
Let us know!
At this point I was a little irritated I didn't even care about the cupcakes anymore but I at least wanted to be refunded, they did take my payment and about 3 weeks have gone by. So I decided to email again, explained my situation and how I have tried to contact them several times and have been ignored. I wanted to know the status of my order or be refunded. I waited and got an email back. The woman said she was calling the baker to follow up on my order, but she said if I wanted she would refund my money. I said yes please just refund my money I was over the cupcakes and annoyed by the whole situation and they were just NOW calling the baker, it had been three weeks what the hell was going on all that time. So they refunded my money.

About two days later I got a package from Bethenny Bakes with my Coconut Cupcakes with the Coconut Icing. It was very nice of them. However, when I opened up the box the cupcakes were beyond recognition. They were smashed and crumbled. Icing on one side of the box. It was a disaster. These were not something you could serve to anyone. They were a little dry and the icing a little sweet but overall ok. However, Bethenny Bakes still needs some work their order processing, customer service and packaging. I will commend them for sending the order after they refunded me I do think that was the right thing to do given the overall experience.